Product Spotlight: 4XEM USB-C Triple Display Docking Station with Power Delivery (2HDMI/1DP)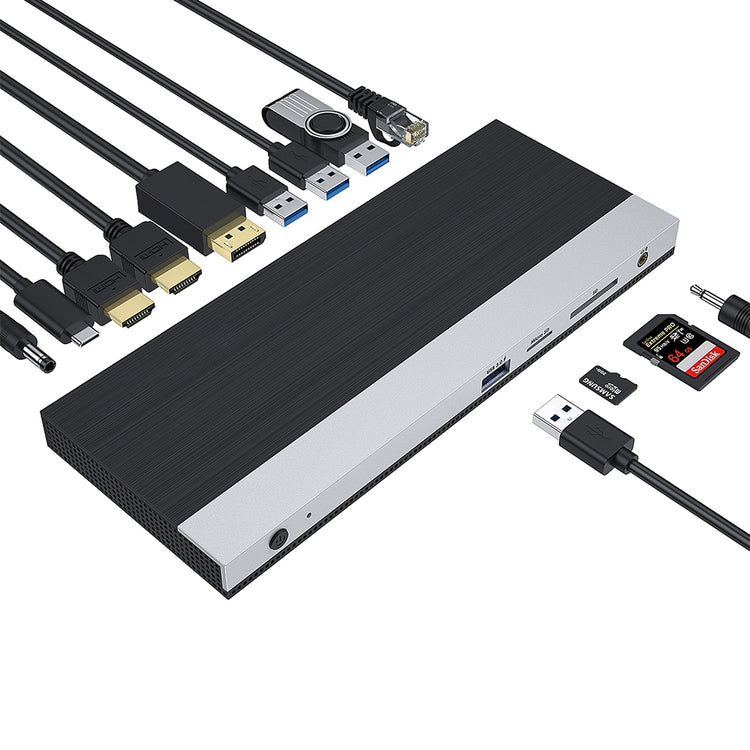 Upgrade your workspace connectivity and productivity with the 4XEM USB-C Triple Display Docking Station with Power Delivery. This versatile docking station is designed to transform your USB-C laptop or device into a hub of functionality, providing multiple display outputs, high-speed data transfer, and power delivery capabilities. Whether you're working from home, in the office, or on the go, this docking station is your gateway to enhanced efficiency and seamless multitasking.
Key Features:
Triple Display Support: Elevate your multitasking game with triple display functionality. The docking station supports two HDMI and one DisplayPort (DP) outputs, allowing you to connect up to three external monitors simultaneously. Expand your screen real estate for enhanced productivity, immersive gaming, or dynamic presentations.

High-Resolution Output: Experience sharp and vibrant visuals with support for up to 4K Ultra HD resolution on each display. Whether you're designing, editing videos, or enjoying high-definition content, your visuals will be crystal clear and true to life.

USB-C Power Delivery: The docking station doesn't just connect your devices – it powers them too. With USB-C Power Delivery, you can charge your laptop while you work. Say goodbye to low battery anxiety and stay productive throughout your workday.

Versatile Connectivity: The docking station offers a range of connectivity options, including USB-C, USB-A, Gigabit Ethernet, and audio ports. Connect your peripherals, transfer data at lightning speed, and ensure a reliable wired network connection.

Sleek and Compact Design: The docking station's sleek form factor takes up minimal desk space while providing maximum functionality. Its modern design complements any workspace, whether it's a home office or a professional environment.

Plug-and-Play Setup: No need for complex installations or driver downloads. The docking station is a plug-and-play solution, so you can start using it right out of the box. Simply connect your devices, and you're ready to go.
Use Cases:
Multitasking Mastery: Streamline your workflow by extending your laptop's display across multiple monitors. Keep your email, spreadsheets, presentations, and reference materials all within sight for efficient multitasking.

Creative Powerhouse: Designers, video editors, and content creators can benefit from the expanded screen real estate. Edit videos on one screen, view your project timeline on another, and keep your tools and assets accessible on a third display.

Gaming Immersion: Gamers can immerse themselves in their virtual worlds by spanning their gameplay across multiple monitors. Experience enhanced field of view and a more immersive gaming experience.

Professional Presentations: Deliver impactful presentations by connecting to multiple displays. Use one screen for your slides, another for notes, and a third for live demos – all without the need to switch tabs.

Remote Workstation: Transition seamlessly between your work laptop and your home office setup. The docking station brings the connectivity and power you need to create a productive workstation from anywhere.
The 4XEM USB-C Triple Display Docking Station with Power Delivery is your gateway to a versatile and productive workspace. With its triple display support, high-resolution output, power delivery capabilities, and versatile connectivity, this docking station is a game-changer for professionals, creators, and anyone seeking to enhance their workflow. Whether you're managing complex tasks, immersing yourself in entertainment, or delivering compelling presentations, this docking station empowers you to do more, and do it better.