Product Spotlight: 4XEM USB-C Dual 4K with Power Delivery Universal Docking Station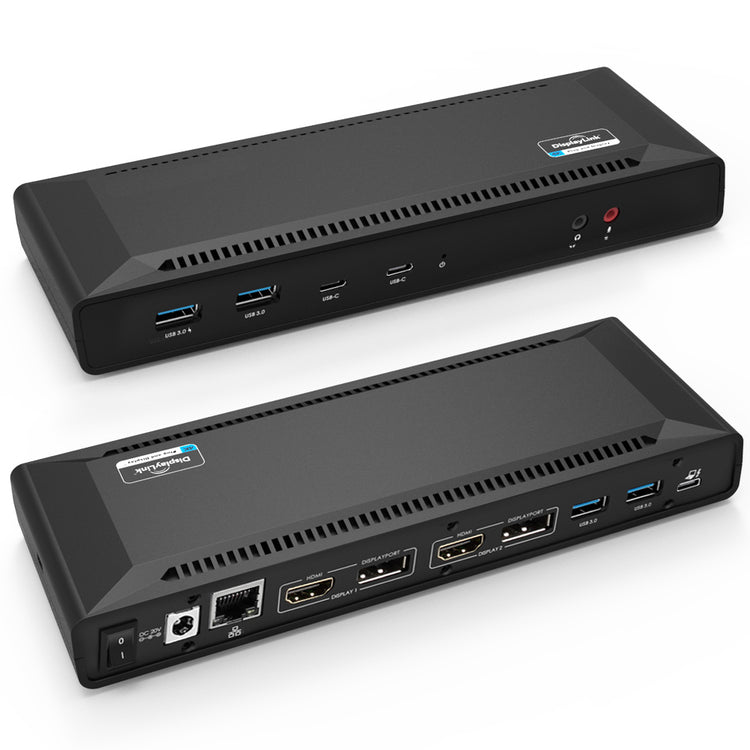 Welcome to another 4XEM Product Spotlight! Today, we are excited to showcase the 4XEM USB-C Dual 4K with Power Delivery Universal Docking Station. This powerful docking station is designed to streamline your workstation, providing versatile connectivity and exceptional performance. Say goodbye to cable clutter and optimize your productivity with this all-in-one docking solution. Let's explore the impressive features and benefits of this docking station.
Effortless Workstation Expansion
The 4XEM USB-C Dual 4K Docking Station revolutionizes the way you connect to your laptop or USB-C enabled device. With a single USB-C connection, you can transform your device into a fully-functional workstation. Connect dual 4K monitors, external storage, keyboard, mouse, and other peripherals to enhance your productivity and enjoy a seamless workflow.
Stunning Dual 4K Display Support
Experience a whole new level of visual brilliance. The docking station supports dual 4K resolution displays, providing you with an expansive workspace for multitasking, content creation, and video editing. Enjoy lifelike colors, sharp details, and immersive visuals that enrich your viewing experience and boost your productivity.
Power Delivery for Convenient Charging
No need to worry about battery life. The 4XEM Docking Station features Power Delivery (PD) support, enabling you to charge your laptop or device while using the docking station. This feature ensures that your device remains charged and ready for action, even during extended work sessions.
Versatile Connectivity Options
The 4XEM Docking Station offers a comprehensive array of connectivity options. It includes multiple USB 3.0 ports, a USB-C port, an SD card slot, an audio jack, and a Gigabit Ethernet port. Seamlessly connect your existing peripherals and devices to the docking station and enjoy efficient data transfer and reliable internet connectivity.
Universal Compatibility
Designed to be universally compatible, the 4XEM Docking Station works with various devices and operating systems. It supports Windows, macOS, and Chrome OS, making it suitable for a wide range of laptops and USB-C devices. No matter what device you use, the 4XEM Docking Station is your go-to solution.
Sleek and Space-Saving Design
With its sleek and compact design, the 4XEM Docking Station complements any workstation. Its small footprint saves valuable desk space, allowing you to keep your workspace organized and clutter-free. The docking station's robust build ensures durability and reliability for long-lasting performance.
Solve Your Productivity Problems with the 4XEM USB-C Dual 4K Docking Station
Multitasking Efficiency: Maximize your productivity with dual 4K displays. Use one screen for creative work such as video editing or graphic design, while keeping your communication and research tools open on the other screen. Seamlessly switch between tasks and streamline your workflow with ease.
Powerful Presentations: Deliver impressive presentations with ease. Connect your laptop to a projector or large display and showcase your content in stunning 4K resolution. Whether you're presenting to a small team or a large audience, the clarity and detail provided by the docking station will captivate your viewers.
Remote Work and Collaboration: Enhance your remote work experience and collaborative efforts. Connect your laptop to a docking station at your home office and enjoy the convenience of a fully-equipped workspace. With dual 4K displays, you can stay productive, attend virtual meetings, and collaborate seamlessly with your team.
Content Creation and Editing: For content creators and video editors, the docking station offers a significant advantage. The dual 4K displays provide ample screen real estate for previewing and editing high-resolution content. Edit videos, design graphics, and create engaging visual content with enhanced clarity and precision.
Gaming in Full Splendor: Take your gaming experience to new heights. Connect your gaming laptop to dual 4K monitors and immerse yourself in stunning graphics and fluid gameplay. Enjoy a panoramic view of the gaming world, spot enemies from afar, and gain a competitive edge in your favorite games.
The 4XEM USB-C Dual 4K with Power Delivery Universal Docking Station is a versatile tool that caters to a wide range of applications. Whether you're a professional seeking enhanced productivity, a content creator, or a gamer, this docking station has something extraordinary to offer. Elevate your workspace, simplify your connectivity, and enjoy the power of dual 4K displays with the 4XEM Docking Station.
To learn more about the 4XEM USB-C Dual 4K with Power Delivery Universal Docking Station or to make a purchase, click the button below!