Product Spotlight: 4XEM USB C 4K Ultra HD Multi-Display Universal Docking Station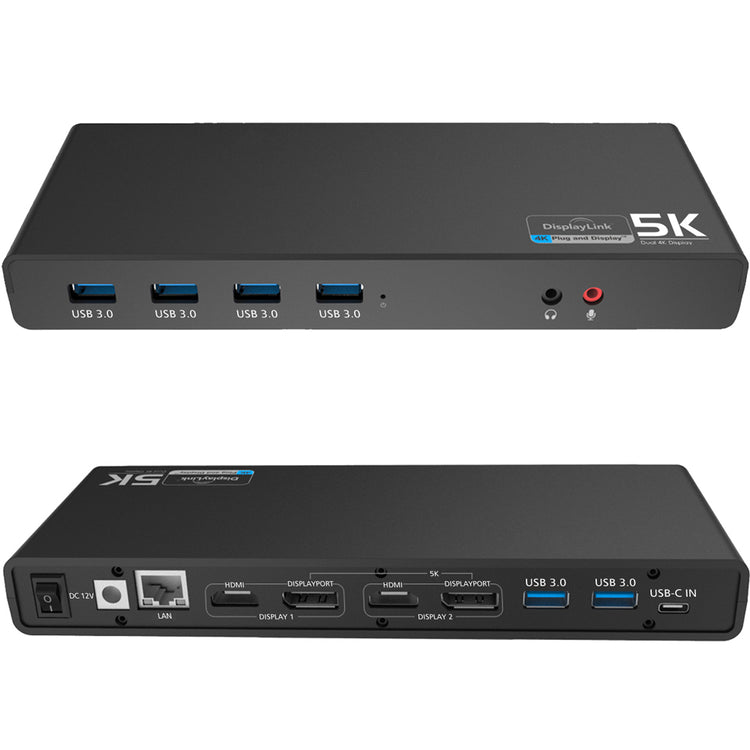 The 4XEM USB-C 4K Ultra HD Multi-Display Universal Docking Station is a versatile solution that enhances connectivity and productivity for users with USB-C enabled devices. This docking station provides an array of ports and features to expand the capabilities of your computer.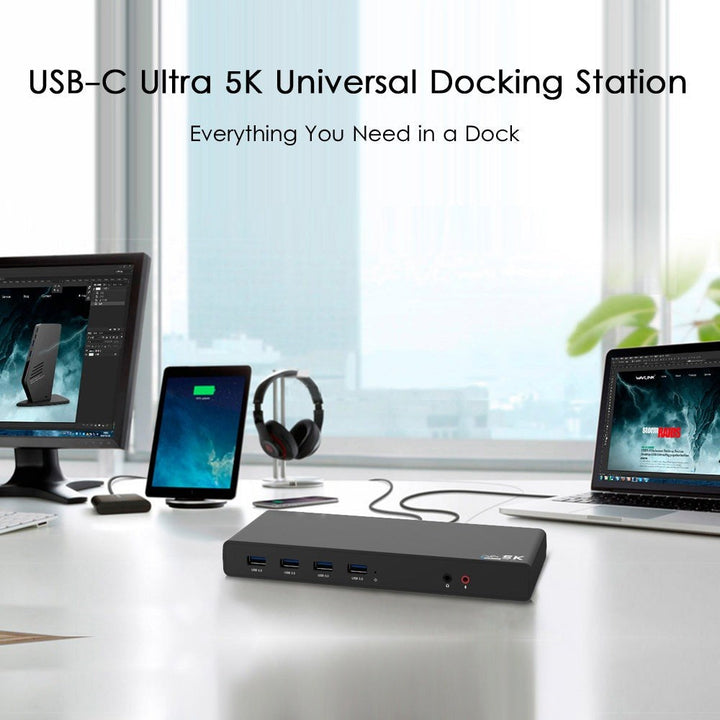 With support for 4K Ultra HD resolution, this docking station allows you to connect multiple displays simultaneously, providing a seamless and immersive visual experience. Whether you're a creative professional, a multitasking enthusiast, or a gamer seeking a larger viewing area, the docking station offers the flexibility to connect additional monitors and extend your workspace. 
The USB-C connectivity ensures high-speed data transfer rates and efficient charging for compatible devices. You can connect various peripherals such as keyboards, mice, external hard drives, and more through the USB ports, expanding your computer's functionality. 
The docking station also includes an Ethernet port, enabling a reliable and fast wired internet connection. This is particularly beneficial for users who require a stable network connection for online gaming, video streaming, or data-intensive tasks. 
Compact and portable, the 4XEM USB-C Docking Station is designed to be an on-the-go companion. Its sleek and durable design makes it easy to carry in a laptop bag or backpack, allowing you to set up a productive workstation wherever you go. 
Features: 
4K Ultra HD resolution: The HDMI 2.0 ports and DisplayPort 1.2 ports support resolutions up to 4K, allowing you to enjoy high-quality video and images on multiple displays. 

 

High-speed data transfer: With the USB 3.0 ports and Type-C port, you can transfer data at lightning-fast speeds, making it easy to transfer large files and media. 

 

Multiple connectivity options: With a variety of ports and connectors, you can connect multiple peripherals to your computer or laptop, including external hard drives, cameras, and more. 

 

Gigabit Ethernet port: The RJ-45 port allows you to connect to a wired network, giving you a fast and stable internet connection. 

 

Audio jack: The 4-pole audio jack allows you to connect a microphone and speaker, so you can use the docking station for video conferencing or other audio-related tasks.

 

Compatible with Windows and macOS. Linux compatibility may vary, but it is not officially supported by Linux.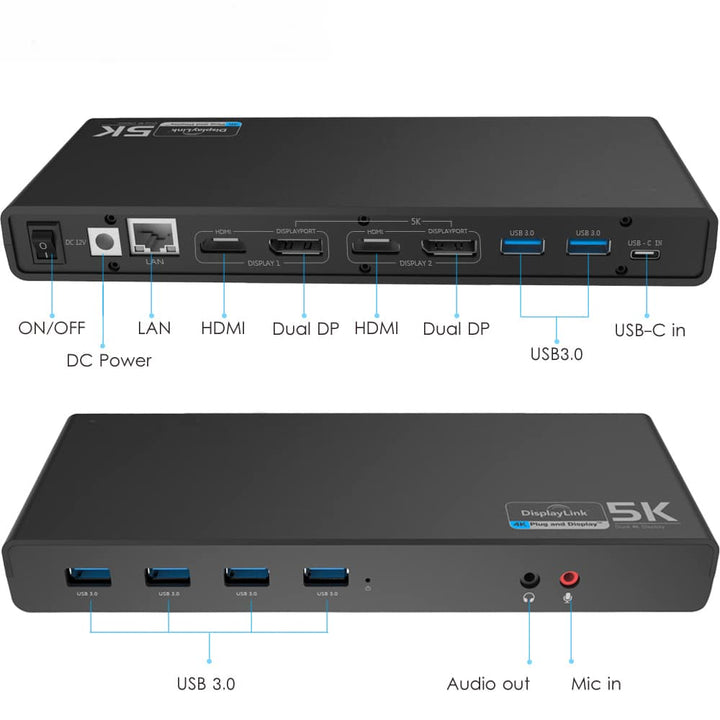 Solve Your Connectivity Problems with the 4XEM USB-C 4K Ultra HD Multi-Display Universal Docking Station
The 4XEM USB-C 4K Ultra HD Multi-Display Universal Docking Station can be used with a variety of applications and scenarios, offering enhanced connectivity and productivity. Here are a few examples:
Workstation Expansion
Transform your laptop into a powerful workstation by connecting multiple displays. This is particularly useful for professionals who require a larger visual workspace, such as graphic designers, video editors, and data analysts.
Presentations and Collaboration
Utilize the docking station to connect your laptop to projectors or large displays for presentations in conference rooms or classrooms. With multiple displays, you can have your presentation materials on one screen while referring to notes or interacting with participants on another.
Gaming and Entertainment
Experience immersive gaming or enjoy multimedia content on a larger screen by connecting your laptop to a TV or multiple monitors. The docking station enables you to enjoy high-resolution gaming, watch movies, or stream videos with enhanced visual clarity.
Productivity Boost
Expand your productivity by connecting additional peripherals like keyboards, mice, printers, and external storage devices. The docking station offers multiple USB ports, making it convenient to access and use various peripherals simultaneously.
Network Connectivity
If you require a stable and fast internet connection, the docking station's Ethernet port allows you to connect directly to a wired network. This is particularly beneficial for tasks that demand a reliable and speedy internet connection, such as video conferencing, large file transfers, or online gaming. 
Unleash your imagination and embrace the extraordinary with the 4XEM USB-C 4K Ultra HD Multi-Display Universal Docking Station! Seize this opportunity to transcend the boundaries of what you thought possible.