Product Spotlight: 4XEM USB 3.0 to Dual HDMI 4K Display Adapter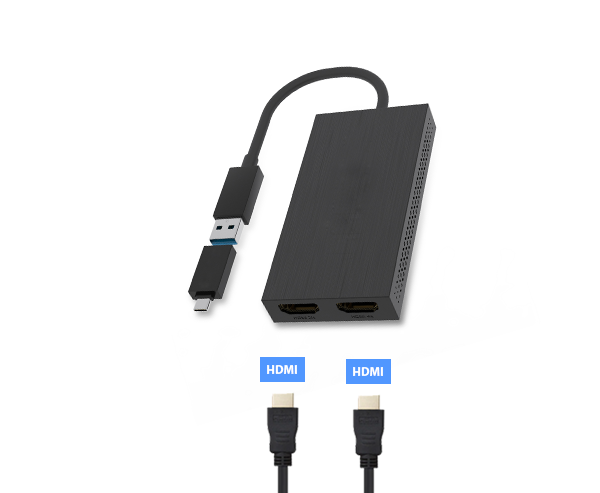 Welcome to this week's Product Spotlight! Today, we're thrilled to showcase the 4XEM USB 3.0 to Dual HDMI 4K Display Adapter. This powerful adapter is designed to transform your computing experience by extending your display capabilities. Get ready to unlock the potential of dual 4K displays and take productivity to new heights. Let's dive into the impressive features and the diverse applications of this display adapter.
Enhance Your Display Experience
The 4XEM USB 3.0 to Dual HDMI 4K Display Adapter allows you to connect two HDMI displays to your computer or laptop through a single USB 3.0 port. With support for dual 4K displays, you can elevate your multitasking abilities, work more efficiently, and immerse yourself in stunning visuals. Whether you're a professional, creative, or gamer, this display adapter has something extraordinary to offer.
Dual 4K Display Support
The standout feature of the 4XEM Display Adapter is its ability to support dual 4K displays simultaneously. This means you can connect two 4K resolution monitors or TVs to your computer or laptop and enjoy stunning visuals with a combined resolution of up to 3840 x 2160 pixels per display. The high-resolution output ensures crystal-clear images and sharp text, perfect for professionals and creatives who demand accurate color representation and detailed visuals.
USB 3.0 Connectivity
The adapter utilizes the USB 3.0 standard for data transfer, which offers faster data rates and improved performance compared to its predecessors. USB 3.0 provides the necessary bandwidth to transmit high-definition video signals from your computer to the connected displays with minimal lag or latency. It also supports backward compatibility with USB 2.0, ensuring broad compatibility across a wide range of devices.
Extended and Mirrored Display Modes
The 4XEM Display Adapter allows you to choose between extended and mirrored display modes. In extended mode, your desktop is extended across both connected displays, giving you an expanded workspace for multitasking and productivity. In mirrored mode, both displays show the same content, which is useful for presentations, demonstrations, or duplicating your screen for larger audiences.
Plug-and-Play Functionality
Setting up the 4XEM Display Adapter is a breeze. It is a plug-and-play device, meaning you can simply connect it to your computer's USB 3.0 port, and it will automatically be recognized without the need for additional drivers or software installations. This user-friendly setup ensures a hassle-free experience, saving you time and effort.
Wide Compatibility
The 4XEM Display Adapter is compatible with a variety of operating systems, including Windows, macOS, and Linux. This cross-platform support makes it an excellent choice for users with different devices and operating systems. Additionally, the adapter is compatible with a wide range of monitors and TVs that have HDMI inputs, allowing you to use it with various display configurations.
Sturdy and Compact Design
The 4XEM Display Adapter features a sturdy and compact design, making it convenient for both desktop and mobile use. Its compact form factor ensures easy portability, allowing you to carry it with your laptop or store it in your bag when on the go. The durable build ensures long-lasting performance, making it a reliable addition to your display setup.
Solve Your Connectivity Issues With a 4XEM Display Adapter
Productivity Powerhouse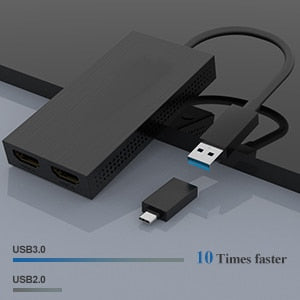 Maximize your productivity by extending your desktop across two 4K displays. Ideal for professionals, the 4XEM Display Adapter lets you multitask like never before. Keep your email on one screen while working on documents or spreadsheets on the other. Seamlessly compare data, research, and analyze information with an expansive workspace that boosts efficiency and reduces the need to switch between applications.
Creative Excellence
For content creators and designers, the 4XEM Display Adapter is a game-changer. Experience the joy of working with precise color reproduction and stunning detail on dual 4K displays. Edit photos, videos, and graphics with greater accuracy, and see your creations come to life in vivid clarity. The extended screen real estate enhances your workflow, allowing you to view your project on one screen while managing tools and effects on the other.
Seamless Presentations
Impress your clients and audience with seamless presentations. The 4XEM Display Adapter enables you to mirror your laptop's display on two 4K monitors. Share your ideas and visual content in crystal-clear quality, making a lasting impact during meetings, conferences, or training sessions. Engage your audience with vibrant presentations that leave a lasting impression.
Immersive Gaming
Take your gaming experience to the next level with dual 4K displays. The 4XEM Display Adapter lets you expand your gaming field of view, providing a more immersive and captivating gaming environment. Enjoy a larger view of the game world, spot enemies from afar, and enhance your competitive edge. Compatible with a wide range of games, this display adapter gives you an advantage in the virtual battlefield.
Efficient Digital Signage
Create eye-catching digital signage displays with the 4XEM Adapter. Use two 4K monitors to showcase your promotional content, advertisements, or informative messages with stunning clarity. Whether you're setting up displays in retail environments, educational institutions, or corporate spaces, this adapter empowers you to make a powerful impact on your audience.
The 4XEM USB 3.0 to Dual HDMI 4K Display Adapter is a versatile tool that opens up a world of possibilities for professionals, creatives, gamers, and businesses. Embrace the power of dual 4K displays and enjoy seamless multitasking, enhanced creativity, and immersive experiences across various applications. Elevate your display experience with the 4XEM Display Adapter and see the difference it makes in your work and entertainment.
To learn more about the 4XEM USB 3.0 to Dual HDMI 4K Display Adapter or to make a purchase, click the button below.