Product Spotlight: 4XEM Active DisplayPort to HDMI Cable - Experience 4K Brilliance!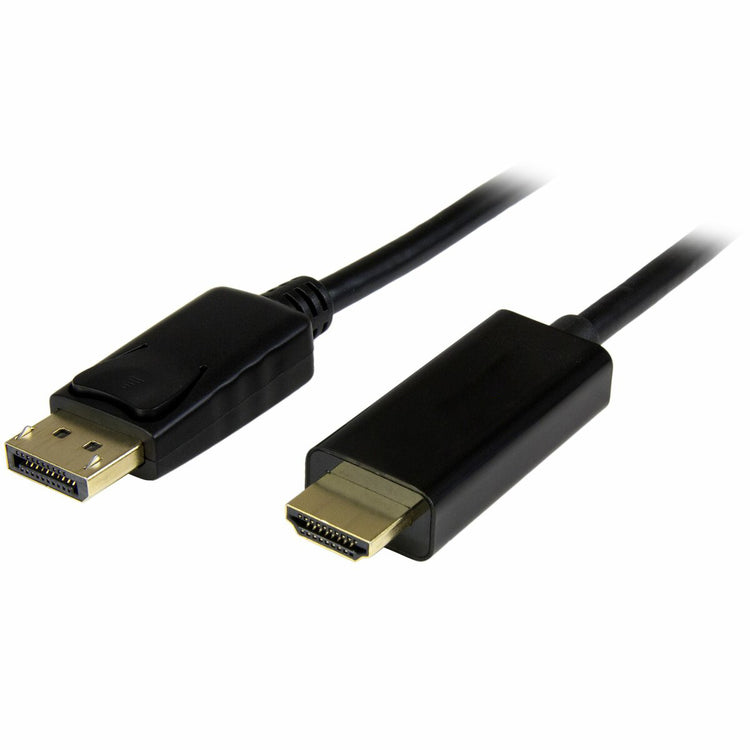 Welcome to the latest 4XEM Product Spotlight! Today, we're thrilled to introduce you to the 4XEM Active DisplayPort to HDMI Cable - a high-performance cable that brings your multimedia experience to life. Designed for seamless connectivity and stunning visual clarity, this cable allows you to enjoy 4K brilliance with ease. Let's explore the impressive features of this cable and its available lengths for added convenience.
Seamless 4K Connectivity
The 4XEM Active DisplayPort to HDMI Cable is your gateway to immersive 4K visuals. Whether you're a gamer, a content creator, or a professional seeking vibrant display clarity, this cable delivers exceptional performance at 4K resolution. Say goodbye to pixelated images and enjoy lifelike colors, sharp contrasts, and detailed visuals that elevate your multimedia experience.
Multiple Length Options
We understand that every setup is unique, which is why the 4XEM DisplayPort to HDMI Cable is available in four different lengths: 3ft, 6ft, 10ft, and 15ft. Choose the cable length that suits your specific needs and configuration. Whether you need a shorter cable for close connections or a longer one for more flexible setups, we've got you covered.
Active Signal Transmission
Unlike regular passive cables, the 4XEM Active DisplayPort to HDMI Cable is equipped with active signal transmission technology. This active technology ensures superior signal integrity over longer distances, reducing signal degradation and maintaining optimal performance even with longer cable lengths. Enjoy a consistent and reliable connection without compromise.
Plug-and-Play Convenience
Using the 4XEM Active DisplayPort to HDMI Cable is as easy as plug-and-play. Simply connect one end of the cable to your DisplayPort-enabled device and the other end to your HDMI display, and you're ready to go. No additional adapters or drivers are required, saving you time and effort during setup.
Versatile Compatibility
The 4XEM Active DisplayPort to HDMI Cable is compatible with a wide range of devices, including laptops, desktops, gaming consoles, and more. It supports various resolutions, including 1080p, 1440p, and 4K at 60Hz, ensuring compatibility with most HDMI displays and devices. This cable is an excellent addition to your entertainment or work setup.
Durable and Reliable Design
Constructed with high-quality materials, the 4XEM DisplayPort to HDMI Cable is built to withstand daily use. The gold-plated connectors offer corrosion resistance and enhanced signal transmission, while the robust cable design ensures durability and longevity.
Solve Your Low Graphics Problems 4XEM DisplayPort to HDMI Cable
Gaming Brilliance: Experience gaming like never before with the 4XEM DisplayPort to HDMI Cable. Connect your gaming console or gaming PC to a 4K display and enjoy smooth gameplay, vibrant graphics, and breathtaking visuals. Immerse yourself in your favorite games and gain a competitive edge with the clarity and precision of 4K resolution.
Content Creation and Editing: For content creators, video editors, and graphic designers, this cable is a valuable tool to enhance your workflow. Connect your laptop or desktop to a 4K monitor and see your visuals in stunning detail. Edit photos, videos, and graphics with greater accuracy, ensuring your creations are true to life.
Presentations and Meetings: Make a lasting impression during business presentations and meetings. Connect your laptop to a large 4K display or projector and showcase your content with striking clarity. Whether you're in the boardroom, classroom, or conference hall, this cable ensures your visuals are visually impressive and impactful.
Home Entertainment: Upgrade your home entertainment setup with the 4XEM DisplayPort to HDMI Cable. Connect your media player, streaming device, or Blu-ray player to a 4K TV and indulge in high-definition content with rich colors and crisp visuals. Enjoy your favorite movies, TV shows, and streaming content like never before.
The 4XEM Active DisplayPort to HDMI Cable delivers 4K brilliance and seamless connectivity, making it the ideal choice for a wide range of applications. Whether you're gaming, content creating, presenting, or enhancing your home entertainment, this cable provides the visual clarity and performance you need. Elevate your multimedia experience with the 4XEM DisplayPort to HDMI Cable and witness the magic of 4K brilliance.
To learn more about the 4XEM Active DisplayPort to HDMI Cable or to make a purchase, click below!