4XEM Product Spotlight: 35W USB-C and USB-A Charger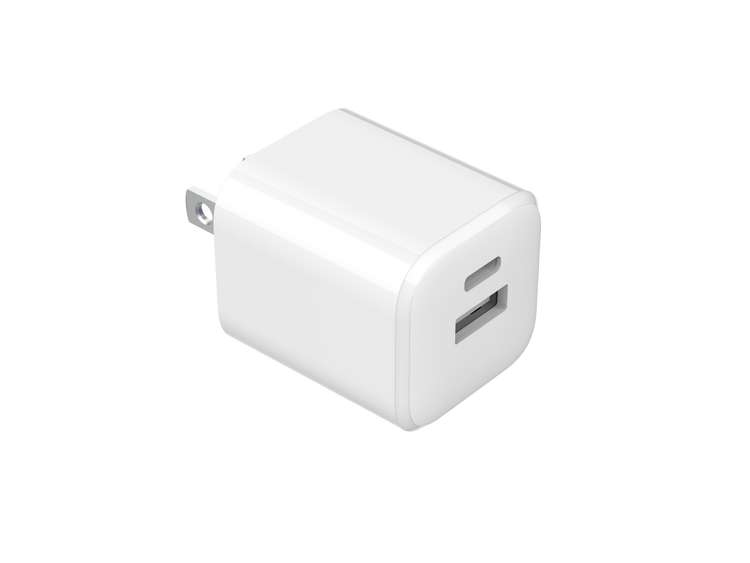 Welcome to this week's Product Spotlight! In this edition, we're excited to showcase the 4XEM 35W USB-C and USB-A Charger. Designed with versatility and efficiency in mind, this charging solution is perfect for powering up your devices quickly and conveniently. Let's dive into the features and benefits of this remarkable charger.
Features
Dual Charging Ports
Equipped with both a USB-C port and a USB-A port, this charger offers compatibility with a wide range of devices. Whether you have the latest USB-C enabled gadgets or traditional USB-A devices, this charger has got you covered. Charge your smartphone, tablet, smartwatch, or even your Bluetooth earbuds simultaneously with ease.
High-Speed Charging
Say goodbye to long charging times. The 4XEM 35W Charger delivers high-speed charging capabilities to ensure your devices are ready to go when you are. With a maximum power output of 35W, you can experience faster charging times than standard chargers, saving you valuable time and keeping you connected throughout the day.
Intelligent Device Recognition
This charger is equipped with intelligent device recognition technology, which automatically detects and delivers the optimal charging power for your specific device. Whether you're charging a power-hungry tablet or a more delicate smartphone, rest assured that this charger will provide the appropriate power level, ensuring a safe and efficient charging experience.
Compact and Travel-Friendly
Designed with portability in mind, the 4XEM 35W Charger is compact and lightweight, making it an ideal travel companion. Slip it into your bag or pocket, and you'll have a reliable charging solution wherever you go. Whether you're on a business trip, vacation, or simply at a coffee shop, this charger will keep your devices powered up without taking up much space.
Safety Features
Safety is a top priority, and the 4XEM Charger is built with multiple safety features to protect your devices. It includes overcurrent protection, short-circuit protection, and overtemperature protection, safeguarding both the charger and your valuable electronics from any potential damage.
Solve Your Charging Problems with 4XEM
Tired of juggling multiple chargers for your different devices? Look no further! The 4XEM 35W Charger is here to simplify your charging needs. With its dual USB-C and USB-A ports, this charger provides a comprehensive solution for a wide range of devices. Whether you have a USB-C-enabled smartphone, tablet, laptop, or a legacy USB-A device, this charger has got you covered. Say goodbye to the hassle of searching for different chargers or carrying multiple adapters. Consolidate your charging needs with the 4XEM 35W Charger and enjoy a clutter-free charging experience.
Versatility for Everyday Use: The 4XEM 35W Charger is designed to adapt to your everyday charging requirements. It's a perfect fit for various scenarios, such as:
Home Charging: Keep your entire family's devices powered up with ease. From smartphones and tablets to smartwatches and Bluetooth headphones, this charger can handle them all. No more arguments over who gets to use the charger first.
Office and Workspaces: Simplify your workspace by reducing cable clutter. Charge your laptop, smartphone, and other devices simultaneously using the USB-C and USB-A ports. Boost your productivity by ensuring your devices are always ready for action.
Travel Companion: Traveling can be hectic, but the 4XEM 35W Charger makes it easier. With its compact design and dual charging capabilities, you can leave behind multiple chargers and pack light. Charge your smartphone, tablet, and other devices on the go, whether you're at the airport, hotel, or a coffee shop.
Efficient Charging Everywhere: No matter where you use it, the 4XEM 35W Charger delivers fast and efficient charging. Its high-speed charging capabilities ensure that your devices get the power they need in the shortest possible time. Stay connected, stream videos, browse the internet, or work on your projects without worrying about draining your battery.
The 4XEM 35W USB-C and USB-A Charger offers a versatile, efficient, and reliable charging solution for all your devices. With dual charging ports, high-speed charging, intelligent device recognition, and a compact design, it's a perfect companion for your on-the-go lifestyle. Experience the convenience of fast charging without compromising safety. Power up your devices effortlessly with 4XEM.
To learn more about the 4XEM 35W USB-C and USB-A Charger or to make a purchase, visit https://www.4xem.com/products/4xems-35w-usb-c-and-usb-a-charger?_pos=1&_sid=eb431af8a&_ss=r.