4XEM Laptop Combination Lock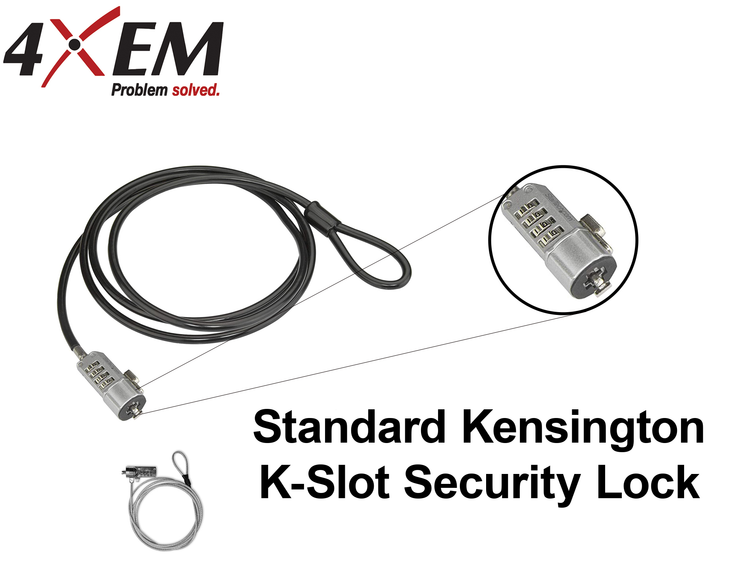 Introducing the 4XEM Laptop Combination Lock, a sleek and reliable solution to keep your laptop secure in any environment. Whether you're a student, professional, or digital nomad, the 4XEM Laptop Combination Lock offers peace of mind by ensuring your valuable device stays where it belongs – with you.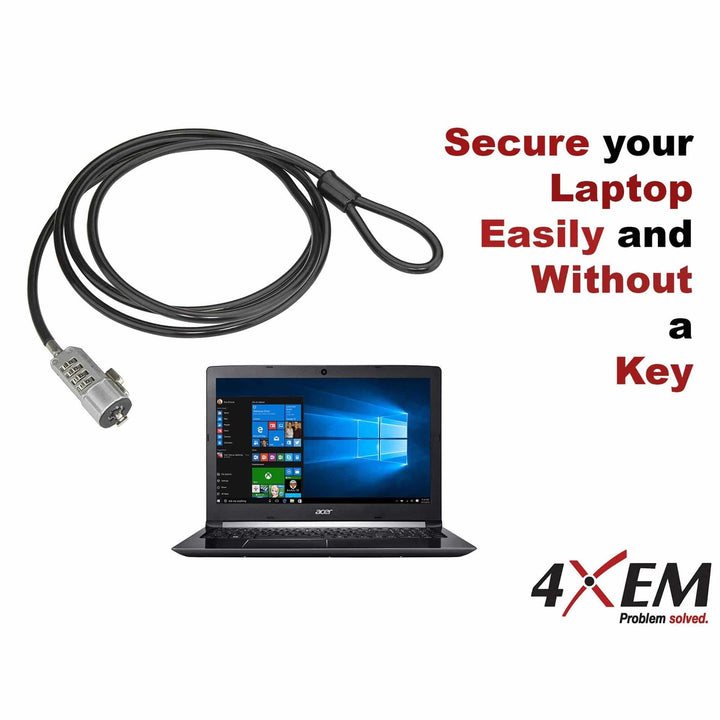 Key Features:
Robust Security: The 4XEM Laptop Combination Lock is designed to deter theft and safeguard your laptop. Its durable construction and dependable locking mechanism provide an extra layer of protection against opportunistic thieves.

6ft Steel Cable: With a generous 6-foot steel cable, this laptop lock allows you to secure your device to various fixed objects such as desks, tables, or poles. This flexibility ensures you can work confidently in public spaces without worrying about your laptop's safety.

Combination Lock Convenience: Say goodbye to keys and hello to convenience. The 4XEM Laptop Combination Lock features an easy-to-set combination dial, allowing you to personalize your security code. No need to worry about misplaced keys or fumbling with tiny locks – your laptop's security is at your fingertips.

Universal Compatibility: This laptop lock is compatible with most laptops and notebooks that feature a Kensington security slot. It's a versatile solution for a wide range of devices, ensuring that you can protect your investment, no matter the brand or model.

Sleek Design: The black color and streamlined design of the 4XEM Laptop Combination Lock seamlessly integrate with your laptop's aesthetics. It's a stylish security solution that doesn't compromise on looks or functionality.

Portability: The lightweight and compact design of this laptop lock make it easy to carry in your laptop bag or backpack. Whether you're on a business trip, studying at the library, or working in a co-working space, the 4XEM Laptop Combination Lock is your portable security companion.
How to Use:
Using the 4XEM Laptop Combination Lock is a breeze:
Set Your Combination: Choose a combination that you'll remember but that others won't easily guess. Follow the simple instructions to set your personalized code.

Insert the Lock: Insert the lock into your laptop's Kensington security slot.

Wrap and Lock: Wrap the steel cable around a sturdy, immovable object and insert the lock's steel cable end into the lock mechanism.

Secure Your Laptop: Rotate the combination dials to your chosen code, then press the release button to secure your laptop.

Work with Confidence: With your laptop securely locked, you can focus on your work or leisure activities without worrying about theft.
The 4XEM Laptop Combination Lock is more than just a security accessory – it's a peace-of-mind solution. Protect your laptop investment with this sleek, durable, and convenient lock that's perfect for students, professionals, and anyone who values the security of their digital life. Whether you're working remotely, studying on campus, or collaborating in a shared space, the 4XEM Laptop Combination Lock ensures that your laptop stays safe and secure, allowing you to focus on what matters most.