Top Fiber Optic Cables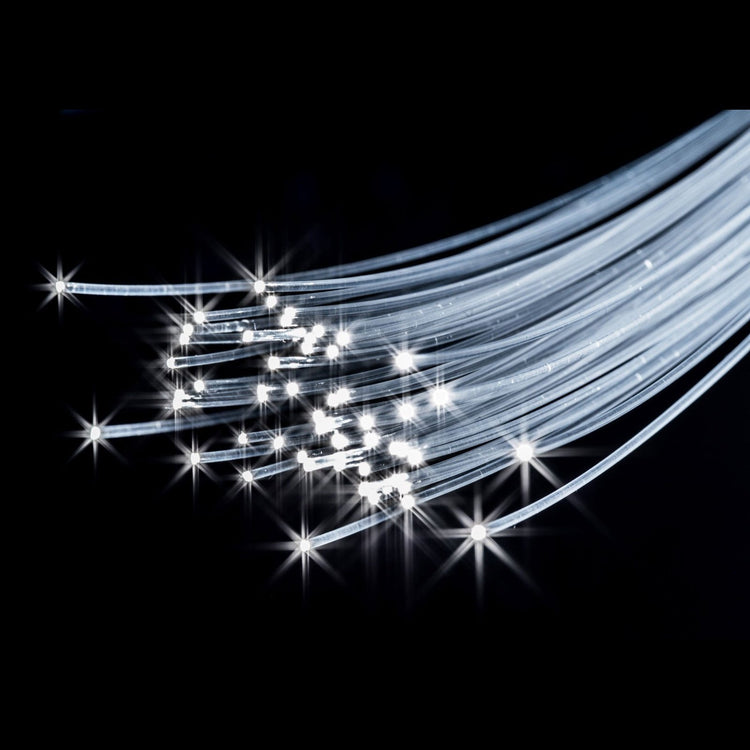 If you're looking for a Fiber Optic cable with reliable performance, high quality and exceptional power that performs better than the standard cable, 4XEM and their fiber cables are your best choice. Not only do Fiber Optic cables have a faster Gbps bandwidth than other cables, but they are thinner and more flexible as well. 4XEM offers numerous cable lengths for their Fiber cables, so finding the right cable for your home or work office will be easy.
If you have had problems with compatibility for your current cables, 4XEM offers cables with both HDMI Type-A and USB-C compatibility. If you need a cable with a superior video display, 4XEM has Fiber cables that can reach a resolution of 8K@60Hz. If your current cables lack speed and reliable performance, some 4XEM cables have a bandwidth as high as 48Gbps. There are no downsides to buying a Fiber Optic cable, and 4XEM can provide the best options available.
Which Fiber Cable Should You Buy?
4XEM offers multiple options for top Fiber Optic cables, each with their own unique features, accessories and benefits. All 4XEM Fiber cables are available in multiple lengths, so you can choose the one that best suits your needs. Each cable also comes with a 1-year warranty with lifetime support. This ensures that the products fulfill the industry standards set by 4XEM. For more detail about each Fiber cable, here is a more extensive look at their individual features and benefits:
4XEM Active Optical Fiber HDMI 2.1 Cable 8K@60HZ 4K@120HZ 7680 x 4320
Features
Compatible with all HDMI A-type connector devices
Bandwidth up to 48Gbps
Supports resolutions up to 8K@60Hz, 4K@120Hz
Max length: 200m
Length options range from 5M to 200M
Cable OD: 4.8mm
Supports 8K@60Hz/4Kx2K@120Hz UHD/3D/1080p/1080i/720p format
Supports HDCP/EDID/CEC/DDC/Audio
Thinner, lighter and softer than the standard copper cables
Highly resistant with EMI and RFI
CE FCCCPRATC Certification
No external power needed
Benefits
HDMI Type-A Compatibility
With its vast compatibility, excellent bandwidth capabilities and high quality video resolution, 4XEM's Active Optical Fiber HDMI 2.1 Cable comes with many benefits and uses. Anyone who owns an HDMI type-A connector device will have no issue connecting the HDMI Optical Fiber cable. This easy compatibility means you won't need to buy any additional cable types to plug in your HDMI type-A devices. The Optical Fiber cables are an all-purpose HDMI type-A connector product. A vast majority of computer monitors, televisions, game consoles and laptops use HDMI type-A connector ports, giving this fiber cable a great amount of utility and usability.
Stable and Powerful Bandwidth
All of 4XEM's 8K Fiber HDMI cables are capable of supporting a bandwidth of up to 48Gbps. This gives you access to a quick and stable internet connection for any Optical Fiber cable that you buy. If your job requires having access to the internet at all times, a cable this reliable will be a huge asset. It will allow you to focus on work without worrying about losing internet connection. With a cable length of up to 200M available, you can utilize a stable wired connection even if your modem is far from your home or work desk. 4XEM Optical Fiber cables do not require any external power. All the power you need for a stable bandwidth is already available when you plug the cable in.
High-Quality Video Resolution
4XEM Optical Fiber cables can support a video resolution as high as 8K@60Hz. Combine that with its varied compatibility, and you will be able to connect your Blu-Ray players, DVD players, HDTV's and game consoles to a vibrant and stunning high definition screen. The high dynamic range that the cables help project will make even older devices produce a far sharper, brighter and more colorful image. Whether you want to project the best screen possible for your home theatre, or want your conference presentations to look as clear as ever, the Optical Fiber cable will provide an exceptional video quality and resolution.
4XEM Fiber USB Type-C Cable 4K@60HZ 21.6 Gbps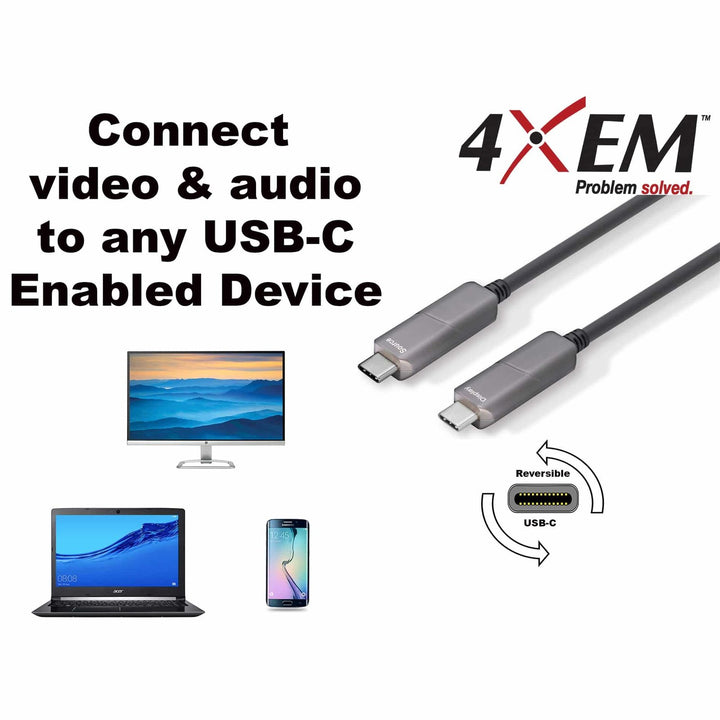 Features
Supports 1080p, and up to 4K@60Hz video transport
Standard USB-C plug
Reversible USB-C cables increase ease of use
Plug and play use
21.8 Gbps bandwidth
Comes with numerous length options, including 10M, 15M, 20M, 25M, 30M, 35M, 40M, 45M and 50M
Does NOT support data transmission, ONLY audio and video
Benefits
Superior Displays
With capabilities to support a resolution transport of up to 1080p and 4K@60Hz, 4XEM's Fiber USB Type-C cable can greatly improve the visual quality of your screen displays. A support of 1080p and 4K resolution means that it can match or exceed the resolution of most HDTV's, and can serve as an effective monitor for screening films or playing video games. If your job requires giving presentations to large groups of clients or co-workers, the exceptional display of the screen can display a clear image for even a larger crowd. The high quality display transmitted by the USB Type-C cable can fulfill the technological needs of both your social and work life.
High Speed and Performance
The high speed video and 21.60 Gbps bandwidth of the USB Type-C cable also makes consistent performance and reliable speed far easier to obtain. If you have previously had problems with video performance or speed from your devices, the Fiber Type-C cable is a simple and effective solution. To make the cable an even more reliable product, 4XEM offers a 1-year warranty with lifetime support. This ensures that any Fiber USB Type-C cable you purchase will live up to the high speed and quality that 4XEM products guarantee, or be replaced with a new product.
Easy to Use
Despite its many functions, specifications and strong power delivery, the Fiber USB-C connector cable is simple and easy to use. The USB-C cables are reversible, meaning there is no wrong way to connect them. Its straightforward plug and play set up also makes it easy to connect to any USB-C compatible display monitor (*audio and video only). The cable comes in a variety of lengths, ranging from 10 to 50M. A longer cable can fit well with your current set-up without clustering all your devices in one place. If you want a shorter cable to avoid a tripping hazard, a 10M cable is also an option. 4XEM's USB-C video cables bring additional power and accessories without sacrificing accessibility.
4XEM High Speed Active Optical Fiber DisplayPort 1.4 Cable-8K@60HZ 4K@120HZ 7680 X 4320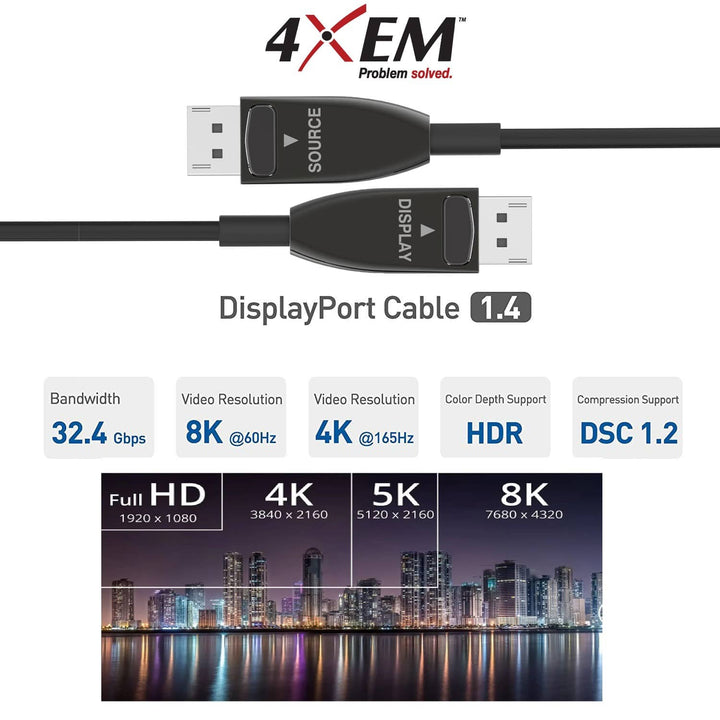 Features
Compatible with all DisplayPort connector devices
Uncompressed Bandwidth up to 32.4Gbps
Active Operating Mode with Unidirectional use
Cable OD: 4.6mm
Supports 8K@60Hz (requires DSC)/8K@30Hz/4Kx2K@120Hz UHD/1080p/720p format
Supports Dynamic HDR
Thinner, lighter, and softer than the standard copper cable
Comes in length options from 5M (16ft) to 100M (328ft)
Highly resistant with EMI and RFI
CE\ FCC\CPR\ATC Certification
No external power needed
Benefits
Compatibility
4XEM's High Speed Optical Fiber Optic Cable is compatible with all DisplayPort A-Type connector devices. This gives you a wide variety of uses for the cable, and saves the trouble and cost of having to buy separate cables for each of your DisplayPort devices. The Optical Fiber cables come in multiple length options, ranging from as short as 5M and up to 100M. If you own several DisplayPort devices, this cable will serve as a reliable power source for all of them.
Powerful Bandwidth
The 8K Fiber DisplayPort also supports an uncompressed bandwidth of up to 32.4 Gbps. This gives you a strong and consistent data transmission through your internet connection. With many work and social lives requiring a stable internet connection, this cable connection will provide a bandwidth that you can count on for dependable performance.
High Video Resolution
The High Speed Fiber cable can support video resolution as high as 8K@60Hz. The UHD platinum fiber optic DisplayPort cable can connect to any of your high-definition audio or video devices with ease. The enhanced video quality is perfect for improving your film or video game experience by adding sharper images and a clearer picture. Whether you're giving a presentation for work or inviting friends and family to your home theatre, the high definition screen is great for projecting to a large audience. With its capability of high dynamic range, the Fiber cable can substantially improve the visual fidelity of your screens.
(*Note that some of these enhancements require your display and video source equipment to be compatible with Display Stream Compression).
Durability and Protection
The material of the Optical Fiber cable is durable and resistant, with EMI and RFI protection. This prevents the electromagnetic waves of the cable from interfering or harming any other devices, while also shielding the cables from any external waves. Despite the durable material, the cables are much thinner and lighter than most copper cables, making them easy to move around. 4XEM Fiber cables provide more power than standard cables while still keeping your safety in mind.