4XEM USB-C Travel Mini Dock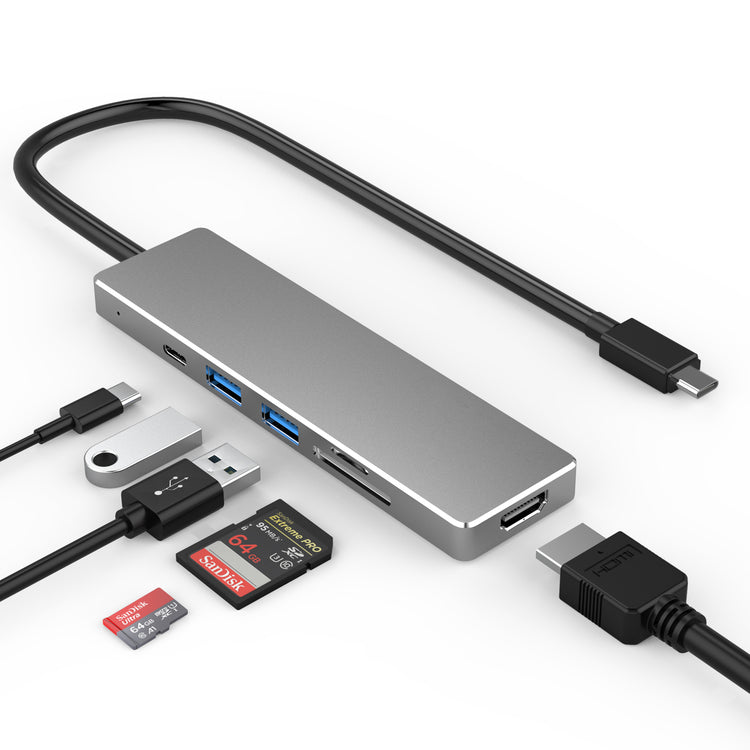 4XEM's USB-C Travel Mini Dock packs a large amount of ports and features into a small, portable device. With an HDMI port that supports up to 4K resolution and a USB-C hub that is capable of upstream power charging and data transferring, the Mini Dock provides a huge amount of benefits for the user.
Features
A unique and thin aluminum design
Mini Dock is small and compact, useful for traveling
Built-in one HDMI V1.4 via USB3.1 (VESA Alternate Mode)
Video output supports a max resolution of up to 4K@30Hz
Two USB-A ports extended USB3.0 (5Gbps) data transferring, backward USB2.0 compliance
One USB-C port supports a USB Power Delivery maximum of 60 watts' upstream power charging to PC or a device USB3.0 data transferring.
Minimum from 5-10 watts of power supplied to downstream devices (this depends on a different power rating of Type-C PD power adapter)
Build in Billboard function
Combo built in individual R/W USB3.0 SD and Micro SD Card Reader. Support SD V1.0/ v1.1/ v2.0/ V3.01 and V5.0, SDHC/ SDXC (2TB max capacity)
Benefits
Portable Design
With its innovative slim and portable design, the Travel Mini Dock is an ideal docking station to bring with you while traveling for work or on vacation. Whether you need to give a presentation on a business trip or watch films on the go, the docking station gives you sufficient power at a small and easy to carry size. Smaller docking stations often have less power, but the 60-watt upstream power charging from the dock's USB-C port makes this device an exception. If you frequently travel for work, you can always rely on this dock to keep your MacBook fully charged while on the go.
Convenience
Having so many ports in one small device is an immense convenience for the user. The Travel Mini Dock gives you access to a charger, a 4K video display and a data transfer device all in one small docking station. Access to all of these ports via a portable device you can take anywhere will make your work life much easier. The multiple functions of the dock also save you the time and cost of buying additional devices. Everything you might need when traveling for work is already compatible with the Mini Dock.
High Quality Video Resolution
The Built-in HDMI V1.4 via USB3.1 allows the Mini Dock to project a video output max resolution of up to 4K@30Hz. This feature gives you high quality video resolution from an easily accessible portable device. The Mini Dock is an immensely useful docking station to bring on business trips or vacations. If you need to present to clients, the dock provides 4K video output that you can bring to each meeting. If you're on vacation, the HDMI port will give you access to streaming movies or playing games in high definition. Access to high quality resolution has never been easier or more convenient than with the 4XEM Travel Mini Dock.
Additional Features of a USB-C Travel Mini Dock
Along with the 4K video and charging ports, the Mini Dock also comes with an SD and micro SD card reader, giving the user more ways to hold or transfer data via the docking station. A built-in billboard function can communicate support details of the dock in a readable and accessible format. With the amount of ports and features held by this small device, it can easily serve as a replacement to any of your older docking stations.