4XEM Active Optical Fiber HDMI 2.1 Cable 8K@60HZ 4K@120HZ 7680 x 4320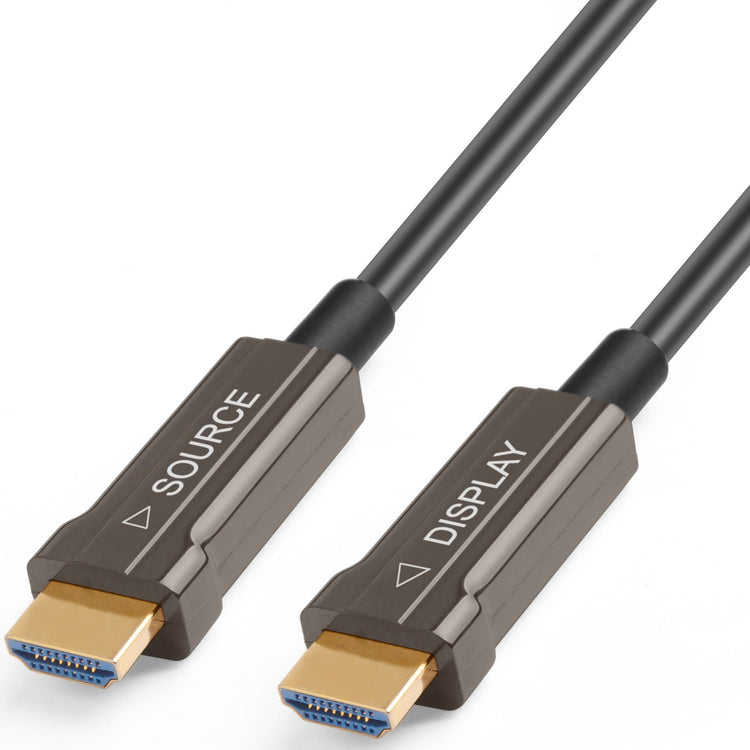 A 4XEM Optical Fiber HDMI 2.1 Cable is powerful, accessible and compatible with all HDMI Type-A connector devices. The 8K Fiber HDMI cables can support bandwidths of up to 48Gbps and resolutions that can reach 8K@60Hz. If you have any HDMI Type-A connector devices, you will benefit immensely from this cable, with its ultra high definition support.
Features of the 4XEM Optical Fiber HDMI 2.1 Cable
Compatible with all HDMI A-type connector devices
Bandwidth up to 48Gbps
Supports resolutions up to 8K@60Hz and 4K@120Hz
Lengths: 5M, 7M, 10M, 15M, 20M, 25M, 30M, 35M, 40M, 50M, 60M, 100M
Cable OD: 4.8mm
Supports 8K@60Hz/4Kx2K@120Hz UHD/3D/1080p/1080i/720p format
Supports HDCP/EDID/CEC/DDC/Audio
Thinner, lighter and softer than the standard copper cables
Highly resistant with both EMI and RFI protection
CE FCCCPRATC Certification
No external power needed
Benefits
Compatibility
Most common devices are HDMI Type-A compatible, so having a powerful fiber cable that can connect to all of them is an extremely useful tool. 4XEM's fiber optic 8K HDMI cable will easily connect all your high definition A/V devices such as Blu-Ray players, HDTV's, DVD players, DVR's, game consoles and projectors to your high definition screen. This is extremely convenient and also saves you the cost of buying multiple cables for each individual device.
Various Optical Fiber HDMI 2.1 Cable Options
4XEM Optical Fiber Cables are available in a wide variety of lengths, ranging from 100M to a far shorter 10M. This allows you to purchase the perfect cable for your home or office set-up. A longer cable will give you greater flexibility and prevent all your HDMI Type-A devices from being clustered in one place. A shorter cable will take up less space and help avoid any tripping or tangling. Every cable length has its own benefits and downsides, but there are enough choices available that you can determine which one would best suit your individual needs.
High Resolution
With resolutions of up to 4K@60Hz, the Optical Fiber cable can substantially improve the visual quality of your monitors and screens. Because of its vast compatibility options, many devices can be greatly enhanced by the Fiber cable. Any high definition A/V device you may own, such as a Blu-Ray or DVD player, and HDTV or game console, can greatly benefit from the added power that the Optical Fiber cable offers. Your films will look as vibrant as ever, with better contrast and visual fidelity. These enhancements are great for creating your own home theatre, or enhancing the quality of conference presentations or video game sessions.
Reliable Bandwidth
The bandwidth of the Optical Fiber cable can reach as high as 48Gbps. If your current devices have been unreliable or unsuccessful in sustaining a stable connection, this cable is an ideal solution. A high bandwidth makes the Fiber cable both powerful and consistent, giving your compatible devices far more use than before. Additionally, 4XEM's Fiber cables do not require any external power to work at full capacity.
Quality Cables
4XEM's Optical Fiber HDMI 2.1 Cables are thinner, lighter and softer than the standard copper cables, making them more flexible and easier to move around. Despite the smaller size, the cables are not fragile. With EMI and RFI protection, the cables are resistant to external electromagnetic waves to keep them safe from damage. With their small size and durable structure, the Fiber cables provide both convenience and security.