4XEM High Speed Active Optical Fiber DisplayPort 1.4 Cable-8K@60HZ 4K@120HZ 7680 X 4320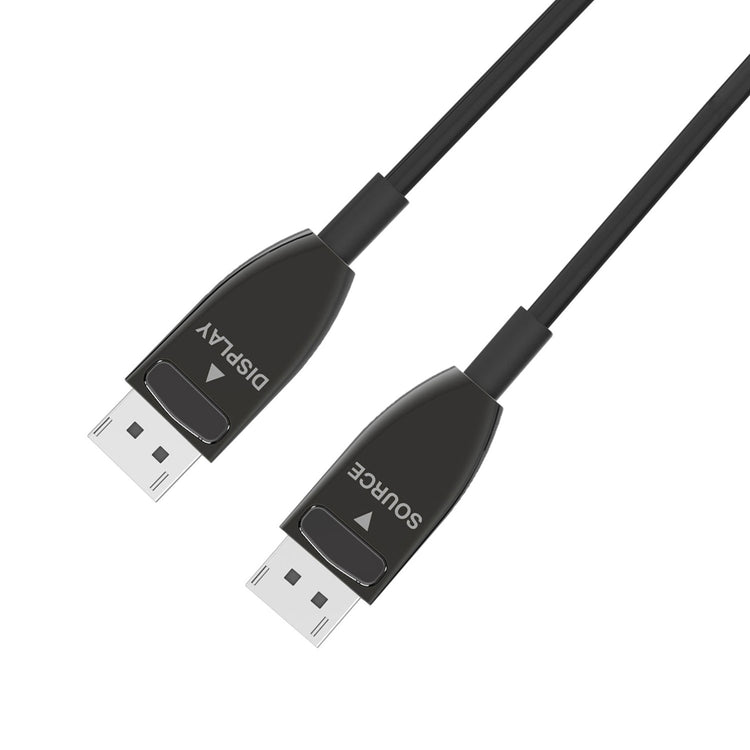 4XEM's High Speed Active Optical Fiber DisplayPort 1.4 Cable is an exceptional device for power and connectivity. The DisplayPort 1.4 cables are completely compatible with all DisplayPort Type-A connector devices. The cables also support an uncompressed bandwidth of up to 32.4Gbps and a resolution that can reach 8K@60Hz. The multiple functions of the High Speed Optical Fiber cable give it a wide variety of uses and benefits, making it an ideal choice for any users with DisplayPort Type-A devices.
Features of the Active Optical Fiber DisplayPort 1.4 Cable
Compatible with all DisplayPort connector devices
Uncompressed Bandwidth up to 32.4Gbps
Active Operating Mode with Unidirectional use
Cable OD: 4.6mm
Supports 8K@60Hz (requires DSC)/8K@30Hz/4Kx2K@120Hz UHD/1080p/720p format
Supports Dynamic HDR
Thinner, lighter, and softer than the standard copper cable
Comes in length options from 5M (16ft) to 100M (328ft)
Highly resistant with EMI and RFI
CE\ FCC\CPR\ATC Certification
No external power needed
Compatibility
Exceptional Video Resolution
The Optical DisplayPort cables' compatibility with all DisplayPort connector Type-A devices gives it a vast amount of versatility. The cable can connect any a/v (audio/visual) device, such as DVD players, data projectors, powered speakers, microphones and more. This cable gives you numerous options for use without having to spend money on additional cables for each a/v device. If you have had problems in the past finding effective cables for your DisplayPort A devices, the varied compatibility of the Optical Fiber cable will be a huge convenience.
High Resolution
With a resolution of up to 4K@60Hz, the Optical Fiber cable is a powerhouse of visual quality. The added power of the cable is perfect for creating your own vibrant home theatre, presenting via a large screen at a conference or client meeting, or improving the visual fidelity of your game consoles. The cable's capability for 8K HDR (High Dynamic Range) will push the visuals and contrast of your screens past the limit that was once possible. Your current screens will look better than ever with the Optical Fiber Cable plugged in.
Multiple Length Options
4XEM's Optical Fiber Cables come in a variety of lengths, ranging from 5 to 100M. This gives you a huge amount of options and makes it easy to find the cable that suits your specific needs. A shorter cable is easier to move around, and reduces the chance of creating a tripping hazard or tangling with other cables. A longer cable can be set up further away from your work space, keeping your DisplayPort Type-A devices from being clustered together. All lengths of cables can be convenient in their own way, and the breadth of options allows you to choose the best one for you.
Easy to Use
With straightforward, unidirectional use, there is no wrong way to connect the Optical Fiber cables. This prevents any frustration you might have had from older cables that wouldn't work if connected incorrectly. 4XEM cables are built to be simple and accessible for all users.
Light and Durable Design
Despite their power, the cables are lighter, softer and thinner than the average copper cable. This makes them easy to move around and save space without sacrificing any of the cable's immense capabilities. The cables also come with EMI and RFI, which prevents them from being damaged by external electromagnetic waves or causing damage to other devices. 4XEM's cables are built to be strong, durable and reliable while still keeping the safety of the user in mind.