4XEM Deluxe USB-C Travel Mini Dock with 100W PD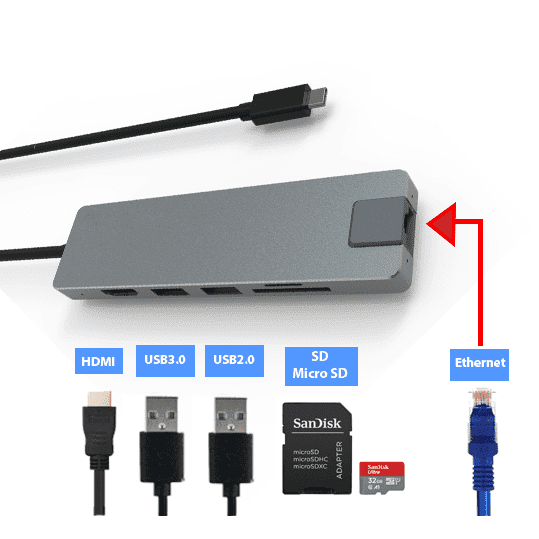 4XEM's Deluxe USB-C Travel Mini Dock sports a unique design that makes it ideal for portability. Despite its small size, the Travel Mini Dock hosts a large number of ports, giving it a significant amount of utility for the user. The Travel Mini Dock offers the convenience of portability with the benefits of multiple ports, giving the buyer a docking station with an incredible amount of usability.
Features
Unique and slim aluminum design Mini Dock (handy for traveling)

Build in one HDMI V1.4 via USB3.1 (VESA Alternate Mode)

Video output supports a max resolution up to 4K@30Hz

One USB-A ports extends up to USB3.0 (5Gbps) data transferring, backward USB2.0 compliance

One USB-A 2.0 ports provide more USB peripherals expansion for PC computer

One USB-C port supports USB Power Delivery of 100 watts at maximum and upstream power charging to PC

Build in Billboard function

Combo built in individual R/W USB3.0 SD and Micro SD Card Reader. Supports SD V1.0/ v1.1/ v2.0/ V3.01 and V5.0, SDHC/ SDXC (2TB max capacity)

One RJ45 port for Gigabit Ethernet
Benefits
Multiple Functions
With a USB-A port that supports USB 3.0 5Gbps data transferring, a USB-C port that offers upstream power charging of up to 100W power delivery, an HDMI port with up to 4K video resolution and a built in SD card reader and an RJ45 Gigabit Ethernet port, 4XEM's Deluxe Travel Mini Dock offers a great deal of features at a small and compact size. The diversity of functions the dock has will make your older devices obsolete, and will save you the time and cost of buying additional devices. Everything you need to charge your computer, transfer data or display video is provided by this dock.
Portability
The small size of the Travel Mini Dock makes it a great device to take with you while traveling for work or on vacation. With the USB-C charging port, you'll be able to keep your MacBook fully charged no matter where you go. If your job requires frequent travel, this dock will provide everything you need to create your own portable work office. Even if you work from home, the small size and vast utility of the dock will keep your work space from being cluttered by other devices. A smaller docking station can sometimes be a less powerful one, but the Mini Dock is an exception. With its 100W power delivery and 4K video resolution, you get the power of a larger dock with the added convenience of a portability.
4K Resolution
Through its built-in HDMI port, the Deluxe Travel Mini Dock is able to project a video resolution of up to 4K@30Hz. This feature gives you high quality images and videos from a device you can bring anywhere. If your computer screen is not sufficient for seeing your work clearly, connecting your dock to a 4K enhanced monitor can greatly improve your productivity.
Does your job involve traveling to client or partner meetings and giving presentations? This dock will make your projections clear and visually appealing for even the largest crowd. While you are on vacation, the Travel Dock will give you easy access to high definition movies or video games on the plane ride or in the hotel room. With its portability and HDMI compatibility, the Travel Mini Dock makes 4K resolution more accessible than ever.