4XEM Thunderbolt 3 Dual 4K Docking Station with 60W Power Delivery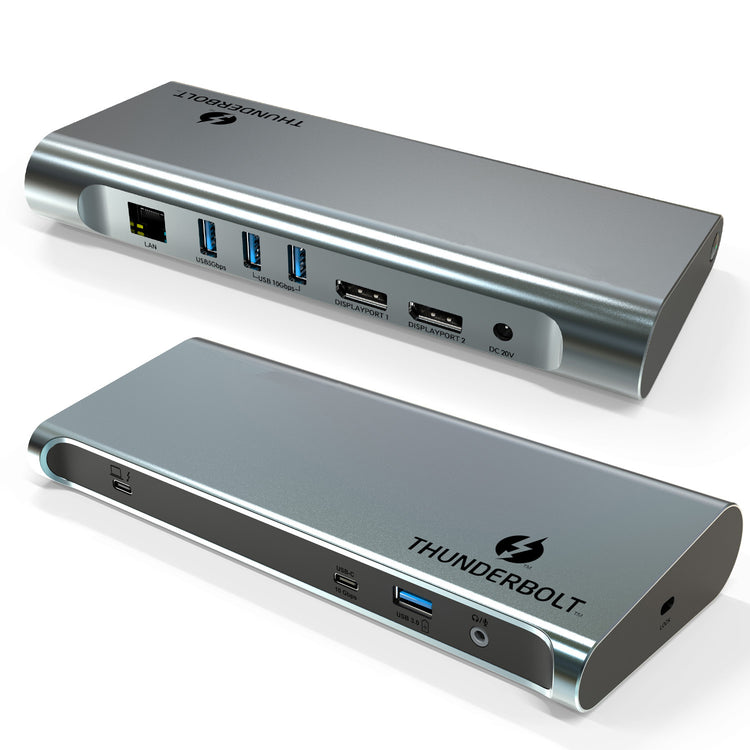 4XEM's Thunderbolt 3 Dual 4K Docking Station comes with a vast amount of functionality and ports. With capabilities that include connecting to the internet, charging numerous devices, transferring data and being able to output a video display of up to 4K, the docking station solves many problems and offers a great amount of benefits.
By pairing its Thunderbolt interface with USB-C connection, the dock is capable of a fast connection. These connection capabilities are backed by 60 Watt power delivery charging power, giving your docking station a great amount of potential. With its endless capabilities, functions and accessories, the multi-port docking station can serve many purposes for you.
Features
One Thunderbolt 3 cable allows you to connect multiple data, video devices and upstream PC charging to your Windows or Mac OS X computer
Supports USB-C Power Delivery of up to 60 Watts of power
Dual DisplayPort supports DP 1.4 resolution up to 4K (4096×2160@60Hz)
Display support for HBR3 backward compatible HBR2 and HBR
One downstream USB-C port and two USB-A ports, support USB3.1 data transfer rate up to 10Gbps
Two downstream USB-A ports support USB3.0 data transfer rate up to 5Gbps
RJ-45 Gigabit Ethernet provides secure and reliable high speed wired networks
4-pole Phone Jack provides combo audio headset and microphone port
Mechanic security lock included
Benefits
High speed connection
With its USB-C connection compatibility, the Thunderbolt 3 Dual 4K Docking Station can produce a lighting fast connection. If you have had issues in the past with keeping a reliable internet connection, this docking station is a simple and effective solution. The RJ-45 Gigabit Ethernet cable can be plugged into the docking station to provide a secure and reliable wired internet connection if needed. This smooth and consistent internet connection also makes data transferring far easier. With one downstream USB-C port and two USB-A ports that support a data transfer rate of up to 10Gbps, data transferring has never been more efficient or straightforward.
Charging power
The Thunderbolt 3 Docking station has a charging power delivery of 6 Watts. This power allows devices to be charged quickly and effectively through one of the many ports available on the dock. If your previous chargers were ineffective or slow, the high charging power of the docking station solves this problem. If you need to charge multiple devices at once but lack the chargers, the multiple ports solve this issue. If your job requires using numerous devices that need to stay powered up and ready to use, this dock will be a great asset for you. The Thunderbolt dock not only increases your charging power, but provides multiple ports to charge your devices with.
4K video resolution
The Thunderbolt Dock has the capabilities to output a video display of up to 4K. Whether you need a high quality screen to give presentations at work, or a visually stunning display to watch movies or play video games, the dock provides easy access to high quality resolution. The docking station also provides ports for 4-pole phone jack with an audio headset and microphone port, improving your sound quality along with your video resolution.
Thunderbolt Docking Station's Dual DisplayPort allows you to display multiple screens at once through monitors connected to your laptop or computer. This is a great function for multitaskers that need to work on numerous projects at once. The Thunderbolt 3 Docking Station is a powerhouse of audio and visual quality.