4XEM Multi-Port Travel Docking Station for MacBook Pro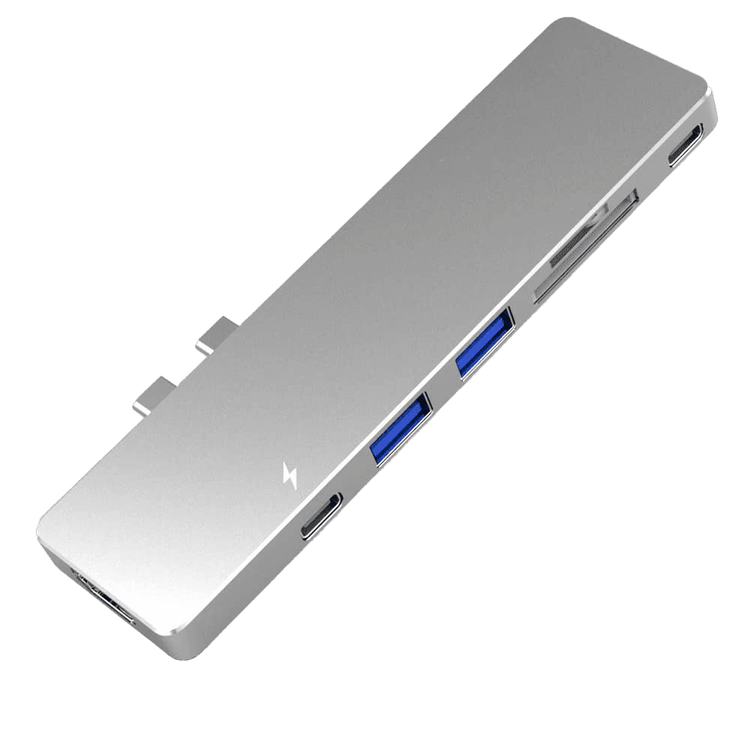 Offering a vast multi-port access to MacBook Pros, 4XEM's Multi-Port Travel Docking Station can meet numerous needs for the user. Charging, storage, video output and data transfer are all available within the ports of a small, portable and convenient device. The Multi-Port Dock is an ideal device for travel, without losing any of the quality and power you often get exclusively from larger, less portable devices. Whether you need to keep your MacBook charged on your trip, or have access to high quality video, the Multi-Port Docking Station makes that possible anywhere you go.
Features
Thunderbolt 3 port and USB-C port included
2 USB 3.0 ports
HDMI port with up to 4K@30Hz video resolution
Up to 5K with Thunderbolt 3 port
Comes with built-in SD/Micro card reader
Small and compact size, ideal for travel
Delivers data transfer up to 5Gbps
Transfers data over USB at up to 5Gbps speeds
Benefits
Portability
At a length of 5.4 inches and weight of only 2.12 ounces, the Multi-Port Docking Station is a small and compact device that can easily be carried around in a bag or case. This makes it an ideal dock for traveling while on business or taking with you on vacation. Oftentimes smaller devices lack the power of larger ones, but this is not the case with the Multi-Port Dock. With a data transfer rate of up to 5Gbps and the ability to display a video resolution of 4K, the Travel Dock can effectively fill the same roles on the go that your larger devices can at home. The Multi-Port Travel Dock provides all the essential functions of a docking station with the added convenience of portability.
Excellent Video Resolution
With its built-in HDMI port, the Multi-Port Travel Docking Station can reach a video resolution of up to 4K UHD@30Hz (or as high as 5K with the built-in Thunderbolt 3 port). This capability gives you a high quality video streaming device at a small and portable size. This makes the dock immensely useful for watching videos or playing games on a high quality 4K screen. If you need to travel for work and give presentations to clients, the dock will allow you to easily bring high resolution video from one meeting to the next. With its compact and portable size, access to 4K video will be as easy as ever with 4XEM's Multi-Port Travel Dock.
Vast Functionality
With a Thunderbolt 3 port, USB-C port, 2 USB 3.0 ports, 4k HDMI, and a SD/Micro card reader included, the Multi-Port Travel Docking Station provides a large amount of utility for the user. The USB 3.0 and Thunderbolt 3 ports make data transfer a simple and easy process, while the SD card reader gives you a portable device to store any compatible SD cards. The multiple functions and ports of the Travel Dock are immensely convenient, allowing you to perform multiple tasks at once through one device. Having so many functions in one dock also saves you the cost of buying additional devices and ports.
Sturdy Material
Despite its small size, the Multi-Port Travel Docking Station is not delicate. Its solid aluminum surface protects it from scratches and wear, allowing the dock to stay useful for a long time. The product also comes with a leather travel pouch, keeping it secure from potential damage and providing a safe way to carry the product while on the go. If significant damage does occur, 4XEM offers a 2-year warranty on the dock to fix or replace your device.