4XEM 40Gbps 1M Thunderbolt 3 Braided Cable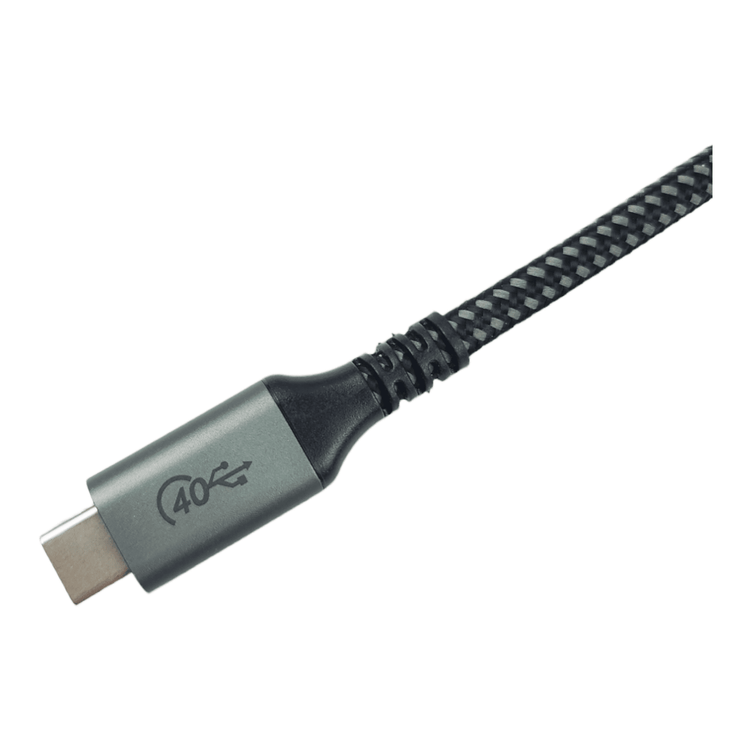 Connectivity with Thunderbolt devices is problematic and can be difficult to resolve. 4XEM has come up with a solution in the form of their new 1M Thunderbolt 3 braided cable, which transfers data at speeds of 40 Gbps. This is much faster than Thunderbolt generations past and is perfect for transferring large files effortlessly. This is an amount no Thunderbolt product has reached before, making this cable a unique addition to Thunderbolt products.
Thunderbolt 3 cables will also charge your devices much faster – at up to 100W. It is also excellent for HD or 4K video display. If you need a reliable cable that excels at multiple tasks, you can't go wrong with 4XEM's 1m Thunderbolt 3 cable.
Features of the 4XEM 1M Thunderbolt 3 Braided Cable
ThunderboltTM 3 Male to Male connection
1M/3.2FT cable length
Active Bidirectional connection
Reversible connectors mean there is no "wrong way" connection
40Gbps Data Transferring, perfect for larger files and storage
Capable of supporting 4K@60Hz displays
E-marked for 100W Power Delivery
Plug and play set-up
Braided Jacket protects against damage
Benefits
Convenience
With a 100 Watt charging power on the Thunderbolt Cable, you can easily charge any Thunderbolt device effectively and efficiently. This is a huge convenience for anyone that uses many electronic devices for work and needs them to stay charged over the course of the day. With two USB-C Type Male connectors, you can connect and charge two devices at once. If you often have problems managing the battery life of multiple devices, having two high power charges is a great solution. Thunderbolt cables are also reversible, meaning there is a wrong way to connect them. This adds to the convenience of the cables by making them easy to use.
Capability
Unlike many Thunderbolt products, 4XEM's Thunderbolt 3 Cable has a data transfer rate of 40Gbps. In other words, this cable can transfer far larger data files and storage than other cables from Thunderbolt or similar brands. If you've owned previous cables that have been unable to transfer large data or have taken a long time to transfer, this cable is an excellent solution. Given the cable's bidirectional connection and compatibility with many other Thunderbolt devices, you will have many ways to transfer data to or from your laptop. The plug and play set-up of the cable means you don't have to be a tech expert to figure out how to transfer data. The data transfer is made to be easily accessible to anyone who wants to use it.
Video Quality
The 4XEM 1M Thunderbolt 3 Braided Cable supports a video display of up to 4K@60Hz. All you need is a laptop and monitor to project a high quality image or video. Not only is this great for presentations, it will significantly increase the visuals and color of any film or video game you display on it. This high resolution comes at a much lower price than any large HD television, making the cable an inexpensive way to increase your video quality.
Stability
4XEM Thunderbolt cables come with a braided cover that protects the surface against damage and wear. This keeps the cables completely functional for a long period of time, saving you the cost and effort of having to frequently buy replacement cables. To further ensure the lasting appeal of the cable, 4XEM offers buyers a 1-year warranty with lifetime support. If you have any issues with the cable, 4XEM will provide one that lives up to Thunderbolt's level of quality.